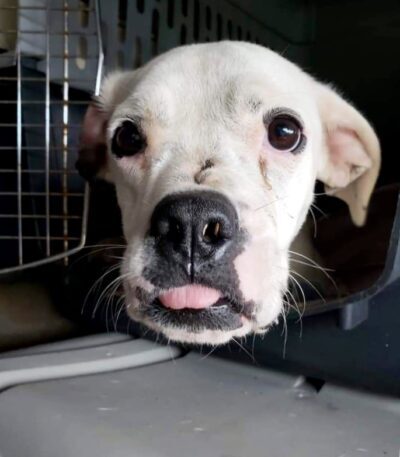 About
Status: Available
Gender: Female
State: New York
FA #: 1
Tag #:
Age: 3 years
Date of Birth: (Birthday unknown)
Weight: 40 lbs
Hair Color: White
Ears: Natural ears
Tail: Docked tail
Reported Good With: Children 12 & Older
Kids Age Range: Kids 12 and older
9/20/20
Whiskers underwent surgery last week. We received a phone call from her surgeon indicating that he discovered pieces of shrapnel from what he believes to be a lead bullet, as well as fragments of shattered teeth and bone. Many shards of shrapnel had to be pulled from the roof of her mouth, numerous teeth had to be extracted, and her jaw had to be reconstructed. There was also a hole in the roof of her mouth. The surgeon believes the scar on the top of her nose is the exit wound from the bullet. Whiskers is now home recovering with her foster family. Everyone who has met Whiskers has fallen in love with this sweet and gentle girl.
9/08/20
Whiskers is coming to AABR from our rescue partner down south. She showed up as a stray after wandering around someone's property for days. Whiskers is estimated to be around 3 years of age. She is super social – happy to meet new people and new dogs alike. She has a wiggle butt that never seems to stop. Whiskers does not have any experience around cats.