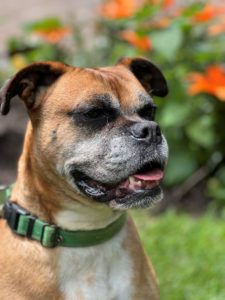 Message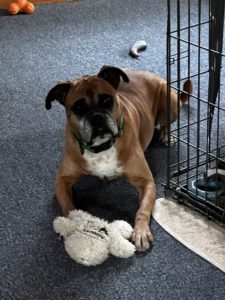 for "Name a Dog" donation:
Thank you, Widaly Infantino, for giving Tawnya her name.
3/30/22
Tawnya is the only Turkey dog not adopted. She is doing so well in her foster home. Tawnya is now housebroken and she loves to play ball and run in her fenced yard. Please don't overlook Tawnya – she is a great girl! Tawnya is fostered in Connecticut.
3/04/22
Tawnya's life surviving as a stray in Istanbul could not have been easy. Street dogs struggle daily for food, shelter, and clean water. Staying out of harm's way from traffic, uncaring humans, and competition from other strays makes daily life a challenge. The scars on her head suggest that Tawnya has suffered some trauma at some point, which has left her hearing impaired. Tawnya has been safe with Adopt a Boxer Rescue since July 2021. She is learning to enjoy the simple pleasures of life in a home. Good food, comfortable beds, and the companionship of kind and understanding people are helping Tawnya to develop a more promising future.
Due to her previous life, Tawnya can have some fears and reservations in very busy situations and when seeing strangers. We feel that Tawnya would appreciate a calm, adult only home with a safe, fenced yard where she can enjoy her retirement years in peace. Tawnya is in good health and she does well with a consistent routine. You may wonder why adopting a dog like Tawnya is worth it and what she can give in return. The simple answer is that Tawnya and dogs like her show gratitude for every meal, every peaceful nap, every bit of warmth, and every gentle touch and thankful look. It is rewarding to watch her sleeping peacefully in soft blankets and to receive gentle kisses from her each morning.
2/22/22
Tawnya is still looking for her forever family. Tawyna is the only Turkey dog still searching for her forever home. She loves to play ball and lay in the sun in her foster mom's fenced in yard. We believe Tawyna to be hearing impaired, it doesn't slow her down a bit. She deserves a  wonderful family to call her own.
7/01/21
Tawnya is now in the United States. She needs a home who will be patient with her and allow her time to adjust. Tawnya is currently with a trainer in Connecticut and is waiting for a forever family.
6/13/21
Tawnya is dog friendly and is currently located in Turkey. She will need a foster or adopter once she arrives to the United States. Help us help this sweet girl. Apply today to give Tawnya her forever home.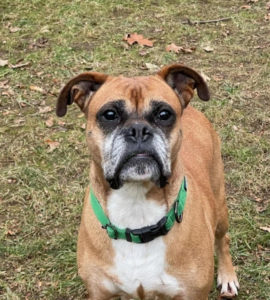 Apply To Adopt