5/23/23
Ivy had been placed on medical hold while we completed some testing for her at the internal medicine specialist. We received great news from her vet visits. Ivy's ultrasound of her kidneys was completely normal and the specialist saw no signs of kidney disease. Her Lyme values were still slightly elevated, so Ivy has been placed on an additional month of Doxycycline.  She would do best in a home that can let her out frequently during the day.
Ivy has been in her foster home for 6 months now and she has really come into her own. She is no longer afraid of kids (I don't think she ever saw one before). Ivy loves walking our 6 yr old to school every morning and looks forward to getting all the pets she can get from the neighborhood kids. She has spent time at doggie daycare and boarding. Ivy is so loved by everyone there – the workers get excited when she shows up. Ivy gets along well with other dogs, but she does struggle a bit while she figures out the other dogs cues because she can't hear. She loves staring out the front window and playing neighborhood watch when she isn't napping or doing zoomies in the backyard.
Ivy needs a home with patience. The home she moves into will need to work on teaching her hand signs. She is also still very much a puppy and needs a way to get her boxer energy out. Ivy would do best in a home with a securely fenced yard. She loves to eat and needs to be watched when eating around other dogs so she doesn't steal their food. Ivy also loves to cuddle and sleep in the bed with the family. She is going to be an amazing addition to any home.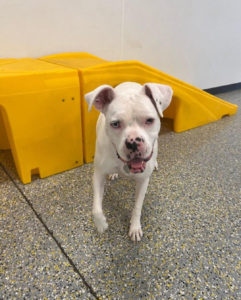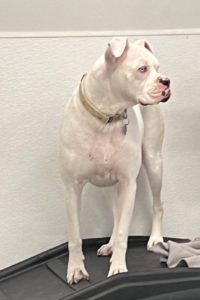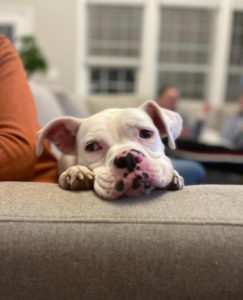 3/3/23
Another month has gone by and Ivy is still waiting for her forever home. She is a deaf boxer girl who is estimated at only 1-2 years of age. Ivy gets along well with her foster brother, a senior male boxer. She was abandoned in a yard and Ivy is still constantly worried about getting food and water – so she needs fed separately at meal time. Ivy is doing well with the children in her foster home, but she has no concept of personal space.  She walks with her foster mom to and from school every day, and all the neighborhood kids love Ivy. She does really well on leash. If the weather is nice, Ivy will get another mile walk later in the afternoon. She absolutely loves the backyard and runs quite a bit there. Ivy has been sent to doggy daycare a few times and she always gets wonderful reports. Ivy is still very timid and sudden movements do scare her. She loves to look out the windows and she enjoys car rides. Ivy often sits in the 5 year old child's bed at night when she gets a book read to her. Ivy would love to find a family of her own. She is going to be a great addition to a home that meets her needs.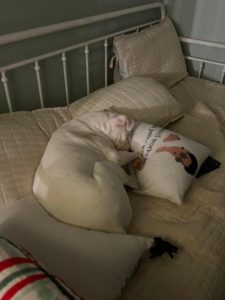 1/31/23
Ivy has been in foster for almost two months now and she is still looking for a forever home. She is getting along well with her foster brother, an older male boxer, and seems to enjoy having another dog in the home. Ivy looks to him for signals. She has also been enjoying going on long walks and then finding a cozy place to nap.
12/5/22
Ivy was brought to a shelter in West Virginia by animal control after she had been abandoned in a yard and left on a chain. She is a deaf girl who is estimated to be around 2 years of age. The shelter indicated that Ivy had been very friendly with people and other dogs. She just arrived at her foster home in Virginia yesterday. Ivy traveled well in the car and did great on leash. She is very stressed right now and is trying to figure out her place in her new foster home. We will update Ivy's page once her foster family gets to know her better. If you are interested in giving Ivy a forever home, apply today!
Apply To Adopt