Gilligan is just about the happiest pup there ever was! He loves to play with stuffed animals, fetch in the yard and make his foster family smile. He has excellent  manners in the home and is respectful of the other dogs in his foster home. Gilligan is a jokester, full of fun and love.
8/09/22
Gilligan spent almost 3 months in boarding waiting his turn to be chosen. His chance came in the form of an amazing foster home whose most recent foster pup just got adopted. She asked, "who needs me the most?" Gilligan is now in foster and is the happiest he has been in a very long time. Our dogs go through a lot before they find a forever home. Luckily for Gilligan, he has one of our life saving fosters by his side. We will post additional updates on Gilligan as he gears up for his first heartworm treatment and his new journey in foster.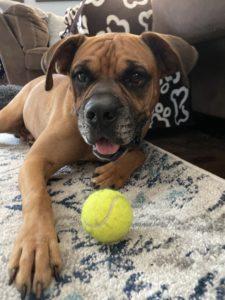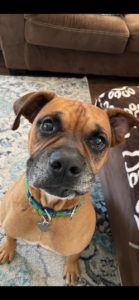 6/10/22
Gilligan was found on the side of a highway in rural Texas . He was defeated, tired, scared and hungry. He used his last bit of energy to climb into our volunteer's car. Gilligan has put on some much needed weight while in her care. He is a quiet, well mannered gentleman that is friendly with dogs and happy to meet new people.  Gilligan now needs a foster or adoptive home.