How much are the adoption fees?
What does the adoption fee include?
Fully vetted
Spay/neuter
All vaccines
Any medical needs such as lyme disease tests
Microchipped
Collar, leash, AABR tag
What is your coverage area?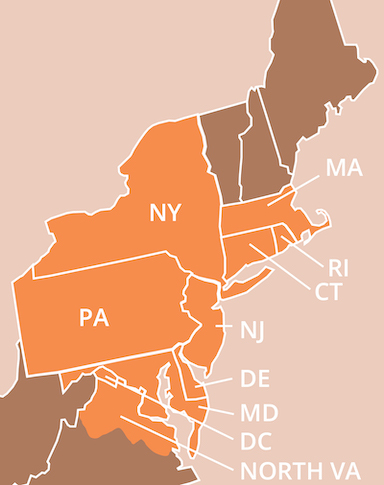 We work ONLY within Connecticut, Delaware, Maryland, Massachusetts, New Jersey, New York, Pennsylvania, Northern Virginia, Washington DC and Rhode Island. If you are unsure if you are in our coverage area, please email us to ask- info@adoptaboxerresccue.com.
Do I need to have a physical fence to adopt?
Not all AABR dogs require a physical fence, but some do. If you do not have a fence you can still adopt, but keep in mind it is ultimately AABR's decision as to whether the dog requires a securely fenced yard.

We do not adopt to homes who barrier train or homes with cable runs or tie outs.
Why don't you adopt outside of your coverage area?
We only place dogs within our coverage area as we require a home visit to be completed for every applicant, which we need a volunteer in the area to conduct. We like to meet the potential adopters, as well as see the living space where the dog will reside.  If you are not in our area, PLEASE PERFORM A WEB SEARCH ON "BOXER RESCUE IN YOUR STATE" and apply to a rescue near you. We are unable to help you locate rescues in your area.
Do you take returns?
Yes! All our dogs are on a contract FOR LIFE, and if they cannot be kept by the adoptive home, per our contract they must be returned to AABR.
How long does the process take?
We are an all-volunteer organization and do our best to process applications as quickly as we can. The dogs are of utmost priority and sometimes we get inundated with intake and caring for sick animals. Our process may take up to 6 weeks or longer depending on the availability of our volunteers to process applications and conduct home visits.
Can I meet the dogs?
We are an all foster based rescue and do not have a central facility where our dogs are housed. All our boxers are in loving foster homes and we only allow for approved applicants to speak with an adoption coordinator or to meet a dog.
Does applying for a dog guarantee a placement?
No. The application is required to potentially adopt, but based on your home environment (kids, cats, other dogs), we simply may not have a dog that would be a good fit for every applicant. 
How can I surrender my dog?