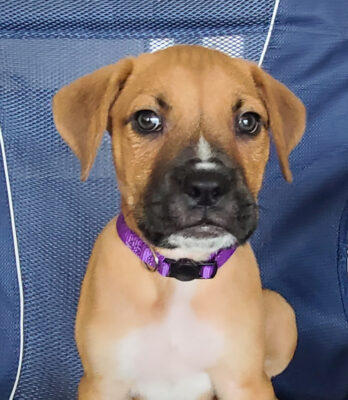 About
Status: Adopted
Gender: Male
State: New York
FA #:
Tag #:
Age: 6 1/2 weeks
Date of Birth: (Birthday unknown)
Weight: 6.5 lbs
Hair Color: Fawn
Ears: Natural ears
Tail: Natural tail
Reported Good With: Children Under 12
Kids Age Range: Unknown at this time
Thank you, Catherine, Jerry and the Shereshewsky family, for giving Demetri his name
9/10/21
Meet one of our littlest members of AABR, Demetri. Tipping the scales at only 6 1/2 pounds and only 6 1/2 weeks of age, he is looking for a committed home that is prepared to put in the much needed work into raising a puppy. We are accepting applications from committed homes with preferably another dog in the home that can appreciate puppy energy. He will be ready to go to his approved home in a few weeks. Demetri is currently in a foster home with his siblings and resident boxers, receiving proper socialization and play.