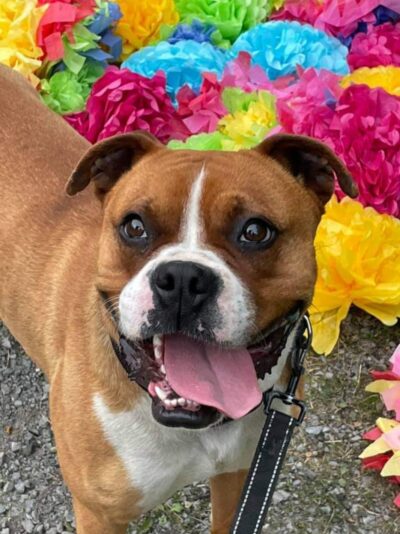 About
Status: Adopted
Gender: Male
State: Maryland
FA #: 11
Tag #: 00021
Age: 1 year, 6 months
Date of Birth: (Birthday unknown)
Weight:
Hair Color: Fawn
Ears: Natural ears
Tail: Natural tail
Reported Good With: Male Dogs, Female Dogs
Kids Age Range: Kids 5 and older
6/13/21
Churro arrived at his foster home and immediately fit right in. He is living with two other dogs and has become fast friends. Churro is going for 2-3 walks a day and is learning better leash manners. He stops on command and only goes forward when told okay. Churro is learning not to jump when his foster mom comes home and he will wiggle all over the place. Churro is a people pleaser and a very quick learner. He would love a home where somebody is home often and can provide the exercise and training that a young boy needs. Churro will make a great addition to a lucky family.
5/28/21
Churro was surrendered to a shelter in West Virginia and is estimated to be around 1.5 years old. He previously lived with children and another dog. Churro has done well with people and other dogs at the shelter. On hot days, he has enjoyed cooling off in the kiddie pool. Churro is an energetic boy who loves to go for walks. He was just neutered and brought up to date on all vet care. Churro will be arriving at his new foster home in Maryland this weekend, where he will be living with two other dogs. We will update his page as soon as his foster family gets to know him better.