08/24/22 update
B is for B O O M E R! Can we just talk about what a great name Boomer is? First, we get to say, " okay, Boomer". And his latest nickname is Boo Boo Baby. Often he is , " My Boo". He is the quintessential family dog, and he is all wiggles and wags when he is with his people. When he leans in for snuggles, he is hard to resist. He loves his bed, but he loves to be invited onto the couch, too. He does not need much exercise, and is happy with 3-4 half-Mile walks each day. His favorite are sunset walks. 🌅He enjoys one or two play sessions with foster sister, Pinoe ( who is crazy 🤪), and loves his meal times. He is so smart, and is responding to training. He dislikes Vets and vacuums, and it remains to be seen if he hates anything else that starts with V.
08/12/22 update
After being tied to a tree in Brooklyn, NY and rescued by AABR, Boomer is doing great in his foster home. Boomer is the perfect age of between 5/6 years old. He is the type of dog that enjoys the simplest pleasures- love, food and some fresh air. He does well out of the crate when alone. When you return home and Boomer is in his crate, the first thing you will hear is his tail hitting the sides of the crate! In the last week he has really started to play with his foster sister, Pinoe. His favorite activity is either meal time or unloading groceries (He is a great helper). He does the cutest little dance when it is time to eat, and he lets himself into his crate as soon as he hears the kibble hit the bowl. He has gained weight, and looks so much healthier. He is a sucker for watermelon. His other favorite activity is snuggling. He will lay his head in your lap and be content. He loves to sleep on his bed, too. He is so great on the leash- always slack, and he stays on your left side. He responds well to: crate, leash, sit, down, look, touch, leave it and off. He is practicing " to place". He is cat friendly. He greets new people with a wagging tail, and loves when they give him treats as an introduction. He has a special love of his foster Dad's truck, and he is getting better with the vet. The vacuum is still the enemy! He is just beautiful, and his foster Mom calls him her Monarch butterfly♥️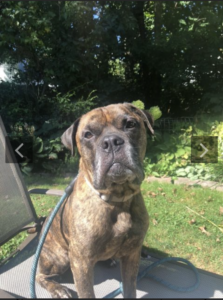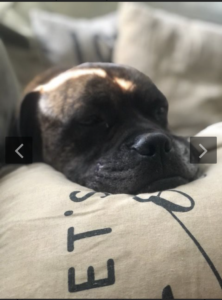 7/26/22
Don't forget Boomer!! He was the big star at Broadway Barks.  Boomer is now neutered and fully vetted.  He is a loyal and gentle boy.  Boomer is a mastiff/boxer mix who is dog and kid friendly.  He is estimated to be around 6-7 yrs old.  Boomer is a mellow gentleman who was found tied to a tree and abandoned in a park in NY.  Boomer deserves better.  He has been doing great in his foster home in Lancaster, Pennsylvania.  Boomer is looking for a home with large bully breed experience.  He is going to be a big boy once he gains some much needed weight.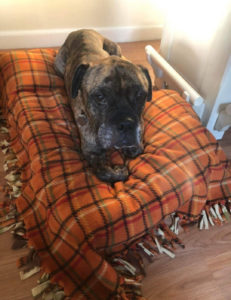 7/19/22
Boomer is a chill guy who is dog and cat friendly.  He is currently in foster with a female dog.  Boomer did wonderful at the Broadway Barks adoption event in NY.  He was kind and gentle to every person who approached him.  Boomer is a true gem who is comfortable in a city setting.  This amazing guy is looking for his forever home.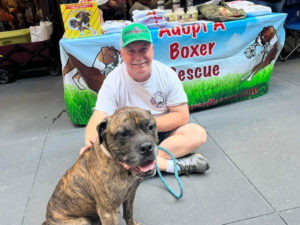 6/27/22
Boomer is happy to be out of the shelter and safe with rescue. He was picked up as a stray, so we do not have much information on him yet. What we do know is that he is a member of the good boys club – sweet, loving, and non-reactive to other dogs. Boomer is currently in boarding and he would love a foster or adoptive home. Our rescue is at maximum capacity and all of our foster homes are full.