7/26/22
Don't forget Boomer!! He was the big star at Broadway Barks.  Boomer is now neutered and fully vetted.  He is a loyal and gentle boy.  Boomer is a mastiff/boxer mix who is dog and kid friendly.  He is estimated to be around 6-7 yrs old.  Boomer is a mellow gentleman who was found tied to a tree and abandoned in a park in NY.  Boomer deserves better.  He has been doing great in his foster home in Lancaster, Pennsylvania.  Boomer is looking for a home with large bully breed experience.  He is going to be a big boy once he gains some much needed weight.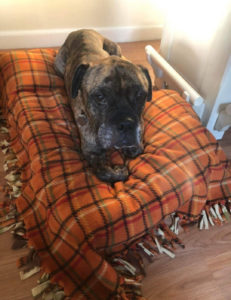 7/19/22
Boomer is a chill guy who is dog and cat friendly.  He is currently in foster with a female dog.  Boomer did wonderful at the Broadway Barks adoption event in NY.  He was kind and gentle to every person who approached him.  Boomer is a true gem who is comfortable in a city setting.  This amazing guy is looking for his forever home.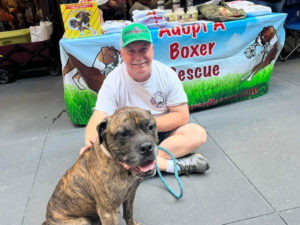 6/27/22
Boomer is happy to be out of the shelter and safe with rescue. He was picked up as a stray, so we do not have much information on him yet. What we do know is that he is a member of the good boys club – sweet, loving, and non-reactive to other dogs. Boomer is currently in boarding and he would love a foster or adoptive home. Our rescue is at maximum capacity and all of our foster homes are full.
Apply To Adopt